EnviroTech 2022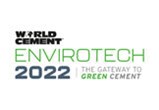 16 March 2022 - 17 March 2022
---
EnviroTech 2022 is a virtual conference, brought to you by World Cement, focusing on the latest technologies and best practices for reducing the cement industry's environmental footprint. Join professionals from around the world and gain expert insight into how the cement industry is making the transition to a green future.

This online conference will feature a range of technical presentations from leading cement companies, covering topics such as:
Emissions reduction & net zero
Energy efficiency & process optimisation
Alternative fuels & renewable energy
Environmental control systems
Waste Heat Recovery
SCMs & clinker substitution
Carbon capture, storage & utilisation & more…
EnviroTech 2022 will also offer live Q&As with industry experts, and a host of interactive features for attendees including: text chat, video conferencing, and a virtual exhibition!