The latest cement news
Tobias Schongar, Siemens, describes the company's role in the modernisation of the Tianyang cement plant in China.
In this World Cement Spotlight interview, David Bizley, Editor of World Cement, welcomes back Mr Hans Conrads, CEO and Owner of PROMECON, to discuss his new article in the September issue of World Cement.
Todd Swinderman, CEO Emeritus of Martin Engineering, offers trend predictions and insights into the next generation of conveyor technology.
The company's German subsidiary, Heidelberger Beton, is now offering a broad portfolio of sustainable concretes under the EcoCrete brand.
The Mineral Products Association has appointed three new professionals to strengthen its core team following the merger with British Precast.
---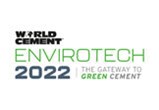 16 Mar 2022 - 17 Mar 2022
VIRTUAL CONFERENCE
,
United Kingdom
01 May 2022 - 05 May 2022
MGM Grand
,
3799 S Las Vegas Blvd
,
Las Vegas
,
NV 89109
,
United States
08 Jun 2022 - 09 Jun 2022
---