The latest cement news
CII-IGBC followed a life-cycle approach to certify Dalmia Cement's avant-garde blended cement product portfolio.
In this World Cement Spotlight interview, David Bizley, Editor of World Cement, welcomes back Mr Hans Conrads, CEO and Owner of PROMECON, to discuss his new article in the September issue of World Cement.
The selection features this year's top 50 solutions from the construction technology ecosystem from around the world, and the most promising for 2022.
During 2021, the company has invested in numerous sustainable upgrades at one of its integrated cement manufacturing units – the Maihar Cement Works, located in Madhya Pradesh, India.
Lars Jennissen, N+P Group, describes the latest developments in waste derived alternative fuels and raw materials, and outlines how cement producers could utilise them to achieve higher thermal substitution rates.
---
16 Feb 2022 - 17 Feb 2022
Messe Dortmund
Hall 4, 5, 6 and 7
,
Rheinlanddamm 200
,
44139 Dortmund
,
Germany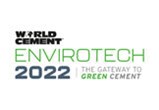 16 Mar 2022 - 17 Mar 2022
01 May 2022 - 05 May 2022
MGM Grand
,
3799 S Las Vegas Blvd
,
Las Vegas
,
NV 89109
,
United States
---