The latest cement news
The company has donated 8 000 pairs of gloves and a large quantity of face masks.
The company has outlined the steps it will take to provide a safe workplace in the midst of the COVID-19 pandemic.
---
The company has announced a definitive acquisition agreement with Thoma Bravo, which is expected to speed up the execution of Command Alkon's strategy to integrate inter-company supply chain operations in heavy construction via CONNEX.
---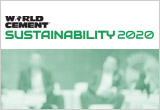 07 Apr 2020 - 07 Apr 2020
19 Apr 2020 - 23 Apr 2020
MGM Grand
3799 Las Vegas Blvd South
,
Las Vegas
,
NV
,
89109
,
United States
28 Apr 2020 - 29 Apr 2020
-
-
,
-
,
Abidjan
,
Cote D'ivoire
---