XXXIV FICEM Technical Congress 2017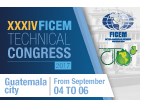 04 September 2017 - 06 September 2017
---
The XXXIV FICEM Technical Congress will take place in Guatemala City on 4 - 6 September 2017. This event looks the global industry landscape, its trends, challenges, and opportunities with a particular emphasis on the region's outlook.
It is an excellent platform to exchange the best practices in cement production and sustainability in Latin America, and has an academic agenda, with technical presentations by international experts on sustainability and the cement industry from Latin America, the US, and Europe.
As added value, on the last day of the event, the participants will have the opportunity to visit a cement production plant.
The event also includes a trade show of 75 booths, featuring the latest products and technology for cement production.