Parts and Services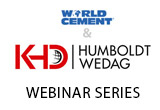 28 July 2020 - 28 July 2020
---
KHD's Parts & Services department consists of engineers and experts who are here to support you, any problem, anytime, anywhere. With our strategically positioned branch offices as well as modern solutions such as remote services, eLearning or enhanced reality, help is just a call away. During this webinar, our speakers will give you an introduction of our new service offerings "enhanced reality" and "remote services", which allow faster problem solving and easier project planning.
As the accuracy and quality of maintenance services is key for any equipment, we will also present our roller press 3D scanner as an example for a faster service that achieves better results and enables longer wear life. That way, we optimize your maintenance efforts and hence, make sure that you get the most out of your equipment while saving unnecessary repair and investment costs.
Another topic that this webinar will cover is eLearning. KHD enables you to train your entire workforce efficiently and easily. Smart features such as multiple-choice tests, cross-platform functionality, or sequenced content makes our service easy to use and enables quick learning.
The Parts & Services webinar is part of the KHD Technical Webinar Series that will cover a range of topics from across the cement manufacturing process, including:
Click here to register to the series.
Speakers
Thomas Cedorge
Head of Parts and Services, KHD
Derek Fox
Parts and Services Sales Manager, KHD
Christian Reul
Global Customer Training Manager, KHD