KHD Technical Webinar Series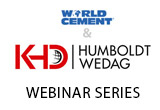 28 July 2020 - 08 September 2020
---
Over the coming weeks, World Cement will be hosting a series of technical webinar presentations from KHD! Each presentation will be led by industry experts and provide a detailed discussion of KHD's product offerings to the cement industry.
Ask the experts: In addition to a high-quality, technical presentation, each webinar will include a live Q&A session hosted by World Cement Editor, David Bizley. Attendees will be able to submit questions live throughout the course of the webinar.
A range of topics: Presentations from KHD experts will cover a range of topics from across the cement manufacturing process, including:
Added value: All registered attendees will receive full recordings of each presentation, so you can review the content whenever needed.
Free registration: This exclusive series of technical webinars is available entirely free of charge and only with World Cement, so make sure to register today to reserve your place!
Click here to register to the series.