Efficient Grinding Solutions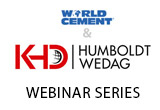 08 September 2020 - 08 September 2020
---
Are you using other systems than roller presses for material grinding and wonder if there's a more efficient way? Are you interested in highly flexible comminution systems based on air classification and roller presses that are especially suitable for finish grinding applications? Or do you want to know why KHD's roller press technology is market-leading and the most advanced and most efficient in the grinding sector?
Then you should watch our webinar on "Efficient Grinding Solutions"!
In this Webinar, we will present in-depth information on our roller press technology. Thanks to more than 35 years of experience and more than 300 successful installations, we can tell you why a roller press is the most efficient grinding equipment and what makes them unique and ideal for applications in the cement industry.
Amongst other topics, this webinar will cover:
Roller presses in comparison to other grinding options
In-depth explanation of KHD's roller press technology
KHD's air classification equipment
Application examples for various layout and process arrangements
There is also a live Q&A session right after the webinar. You can forward your questions. Either our speakers will answer them directly or one of our experts will reach out to help you get more out of your plant.
The Efficient Grinding Solutions webinar is part of the KHD Technical Webinar Series that will cover a range of topics from across the cement manufacturing process, including:
Click here to register to the series.
Speakers
York Reichardt
Head of Technology, KHD
Niko Hachenberg
Head of Engineering, KHD