Cooler Solutions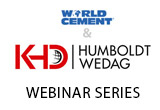 25 August 2020 - 25 August 2020
---
A proven and reliable clinker cooler influences the performance of the entire cement plant and is essential for smooth operation of the pyroprocess. Over the past years, KHD has developed and further refined its clinker cooling solutions. With our latest developments, we made sure to further improve the core functionalities such as cooling and transport. At the same time, we focused on the lowest possible CAPEX and operating cost to offer our clients a sustainable and efficient investment.
During this webinar, our speakers will present and explain our core cooler solutions PYROSTEP²® and PYROFLOOR²®, as well as new developments and upgrades that enable cement producers further performance increases and reduced operational costs.
The Cooler Solutions webinar is part of the KHD Technical Webinar Series that will cover a range of topics from across the cement manufacturing process, including:
Click here to register to the series.
Speakers
André Sybon
Managing Director, Humboldt Wedag GmbH
Ravi Saksena
Product Manager Cooler Solutions, KHD